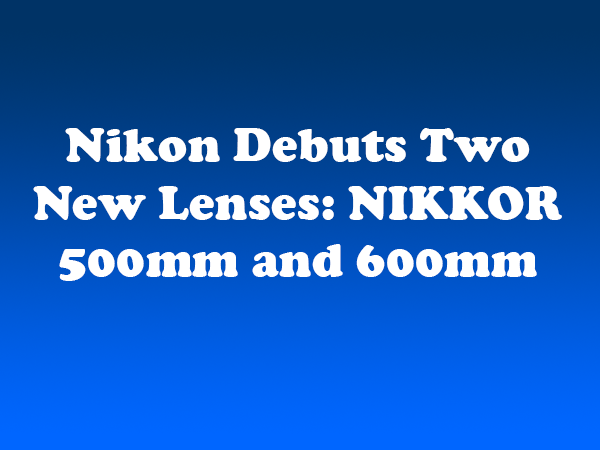 Nikon Debuts Two New Lenses: NIKKOR 500mm and 600mm
In July, Nikon announced the addition of two new full frame telephoto lenses. The AF-S NIKKOR 500mm f/4E FL ED VR has a focal length of 500 mm, while the AF-S NIKKOR 600mm f/4E FL ED VR has a focal length of 600 mm.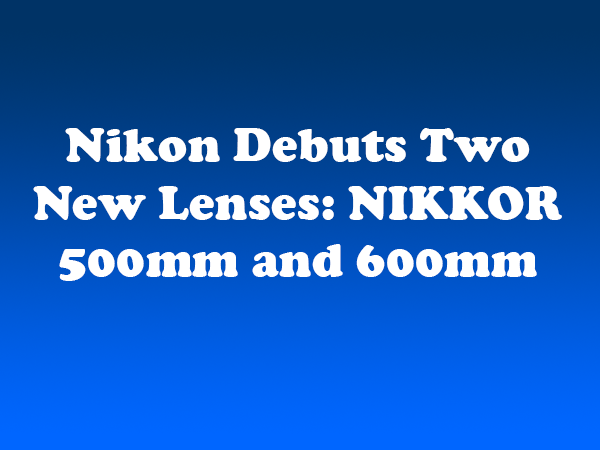 Thanks to the addition of two fluorite elements, Nikon boasts that the lenses are "the world's lightest lenses available at their respective focal lengths." Compared to their predecessors, the AF-S NIKKOR 500mm f/4E FL ED VR weighs 20 percent less, while the AF-S NIKKOR 600mm f/4E FL ED VR is 25 percent lighter. Of course, the fluorite elements also enhance image quality by reducing chromatic aberration.
"The new NIKKOR 500mm and 600mm f/4 lenses were developed to give photographers the advantage on the sidelines or in the field, with a lens that can keep up with the action and get the decisive shot," said Masahiro Horie, Director of Marketing and Planning, Nikon Inc. "By the fourth quarter or final period, users will sincerely appreciate the weight reduction of these lenses which allow for extended shooting, even into overtime."
With regard to performance, the lenses are clearly designed with nature and sports photographers in mind. Both lenses are VR rated to 4 stops of stabilization, which is essential when shooting handheld. The new lenses also feature a SPORT VR mode, which makes it easier to capture subjects that are moving rapidly and unpredictably. Nikon's Electromagnetic Diaphragm also helps photographers to maintain consistent exposure during high-speed burst shooting of fast action.
The barrel components are constructed of magnesium alloy, which makes the lens lightweight as well as durable. For photographers who shoot in demanding conditions, Nikon's latest 500mm and 600m offerings feature a fluorine coat, which repels dust and water and makes the lenses easier to clean.
Nikons new lenses are geared towards professionals and are likely out of reach for casual photographers. The AF-S Nikkor 500mm F4E FL ED VR retails for $10,299.95, while the AF-S Nikkor 600mm F4E FL ED VR retails for $12,299.95. Both Nikon lenses are available on Amazon.