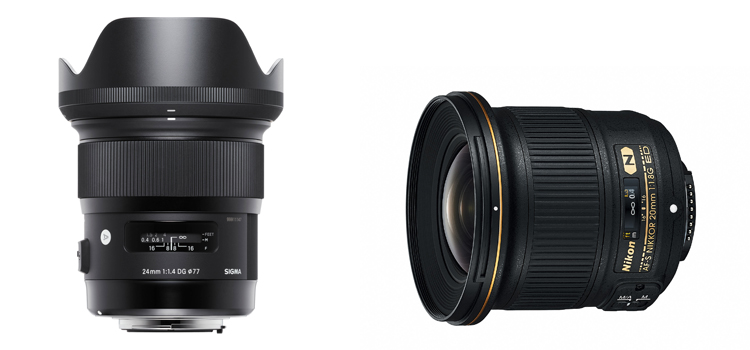 Nikon Outperforms Sigma Art Series with the 20mm f./1.4
Following up on the success of the two previous Sigma art lens series lenses—35mm f/1.4 and 50mm f/1.4—a choice between the new Sigma 24mm f./1.4 or Nikon 20mm f./1.4 released around the same time looked like it might be tough.
Now that the reviews are in, it would appear that the Sigma 24mm f/1.4 is not quite up to the standard of their other Art Lens Series lenses. Nikon purists can buy the new Nikon 20mm f/1.8 knowing that photographers without Sigma Stigmaphobia won't best them.
The general consensus among reviewers is that the Sigma's latest addition to the wildly successful Art series lacks the "wow" factor that its processors all possessed. Some even suggest Sigma may have bitten off more than it could chew with its latest lens. That being said, the Sigma 24 f/1.4 is a quality lens, it just doesn't blow the competition out of the water. As suggested in Resource Magazine's review, "It might be better than the competition, but it's not a hands-down run-away winner that crushed all opposition. It's a weird feeling not being able to say the Sigma was a far-and-away victor. But, using a sports reference, even the best basketball teams have close games."
As far as a side-by-side comparison, the experts at DxOMark recently compared the Nikon 20mm f/1.8 with the two other most popular wide-angle zoom lenses on the market, the Nikon 14-24mm f/2.8 and Sigma 12-24mm f/4.5-5.6. Here's what they had to say based on their test data regarding sharpness, transmission, distortion, and chromatic aberration:
At $949, the Sigma 12-24mm is a cheaper alternative, but it offers only a "slow" and variable maximum aperture of f/4.5-5.6 that lets through much less light than the wide and bright "fast" apertures of the other two. The Sigma can't compete with the other two for image quality either, achieving an overall DxOMark Lens Metric score of only 18 compared to 30 for the 14-24mm and 33 for the 20mm f/1.8G. While the Sigma holds its own for Distortion and Vignetting, its Sharpness score of 11P-MPix is much lower than the mid-20's achieved by the Nikon alternatives.
Image quality aside, the Sigma also has a significant weakness in that it lacks weatherproofing. So if you tend to shoot in extreme conditions, the Nikon is the clear choice.