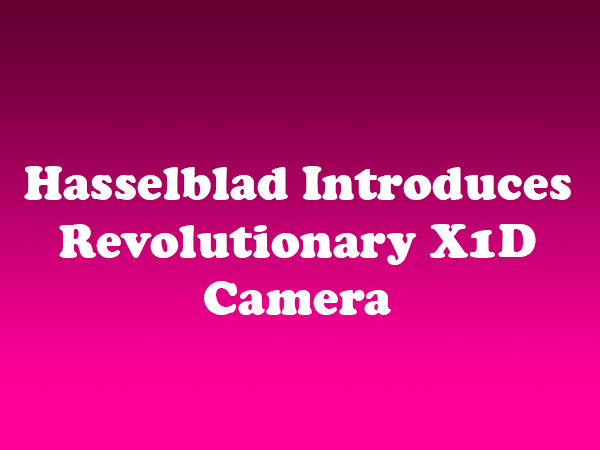 Hasselblad Introduces Revolutionary X1D Camera
Hasselblad recently announced the world's first compact mirrorless digital medium format camera. The Swedish camera company touts that the X1D is "small enough to take anywhere, powerful enough to capture anything."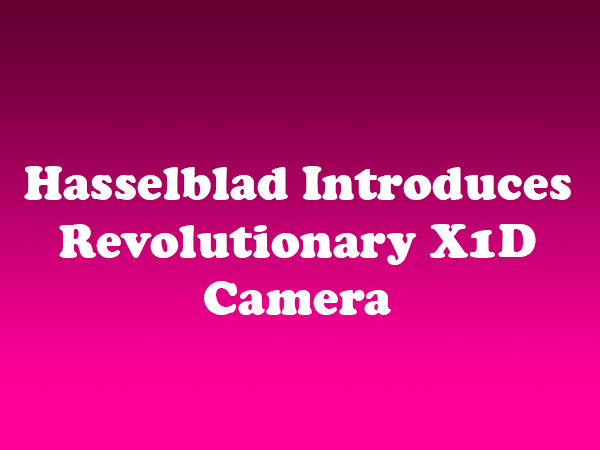 The camera is smaller than a full-frame Digital SLR. It weighs 725 grams (approximately 1.6 lbs.) and measures 150 x 98 x 71 mm (camera body only), which is more akin to a full-frame digital rangefinder. As with all of Hasselblad's cameras, the X1D is handmade in Sweden and features a sleek, ergonomic design.
According to Hasselblad, the X1D was under development for two years. Along with the Hasselblad H6D system, the X1D is the culmination of efforts to reinvent the company and appeal to younger photographers who may not be familiar with the brand.
In announcing the X1D, Perry Oosting, Hasselblad CEO noted: "The X1D marks a pivotal point in Hasselblad's rich 75-year history. This camera makes medium format photography available to a new generation of Hasselblad users, while pushing the existing limits of photography to new heights."
According to early reviews, the X1D deliver the high-quality images photographers have come to expect from Hasselblad. Combining the camera's 16-bit color depth with the Hasselblad Natural Color Solution, images are clear, natural, and vivid, even in challenging shooting conditions like low light or bright sun.
Hasselblad has also developed new XCD lenses to compliment the camera. At launch, 45mm and 90mm are available, with additional options available down the road. Most notably, the lenses enable flash sync at all shutter speeds up to 1/2000 second.
Below are the camera's key features:
500-megapixel medium format CMOS sensor
16-Bit Color, 14-Stop Dynamic Range
RAW (3FR) and JPEG
Dual SD cards
Full HD 1080p video in 25fps
LCD screen with touch control
ISO100 – ISO25600
Up to 1/2000s shutter speed
4 MP electronic viewfinder
Nikon flash compatible hot-shoe
USB 3.0 Type-C connector, Mini HDMI, Audio In/Out
Weather and dust sealed.
The Hasselblad X1D is currently available for preorder and is expected to ship in early September. It costs $8,995 USD.