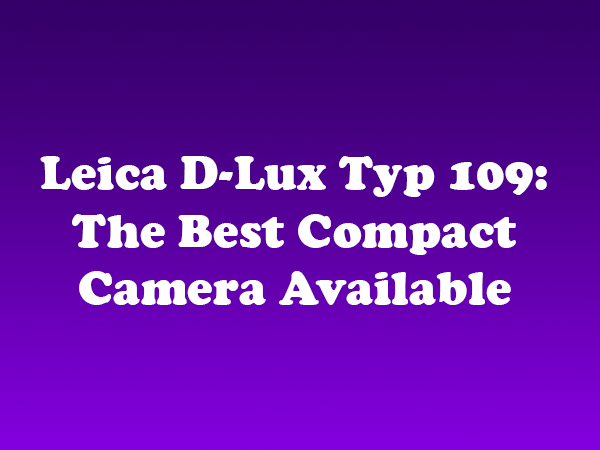 Leica D-Lux Typ 109: The Best Compact Camera Available
The latest high-end, compact camera causing a buzz in the photography world is the Leica D-LUX Typ 109. The camera features a large sensor, traditional controls, and near-SLR quality photos.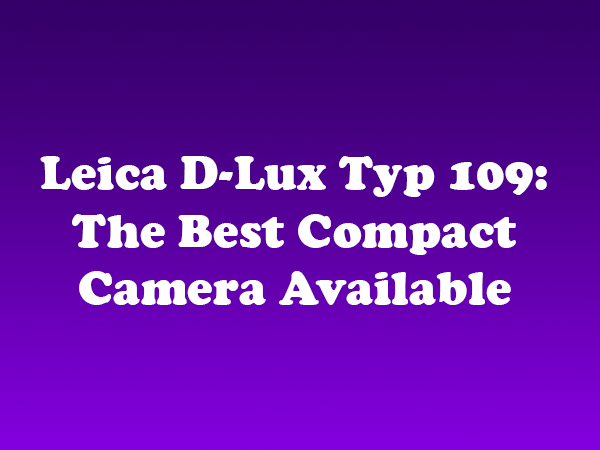 Leica has chosen not to market this camera as the D-Lux 7, instead they call it Typ 109, which is more consistent with their numbering system for the V-Lux cameras.
Leica added a lot to the new model to warrant the price jump from $800 for the D-Lux 6 to $1200 for the 109.
Thanks to a partnership with Panasonic, the camera shares many of the same features as Panasonic LX100.
Below are some of the key specs:
8MP 4/3 in. MOS sensor
f/1.7-2.8 Leica lens
1x Zoom, 24-75mm equivalent lens
0 in. 920K pixel LCD display
ISO 100 – 25,600
Optical image stabilization
UHD 4K Technology and MP4 Video
NFC and Wi-Fi connectivity
The four-thirds sensor is big for a compact camera and provides a greater depth of field. The 2,764,000-dot (EVF) is also an excellent feature, particularly when shooting in bright conditions.
For video graphers, the camera offers the high-resolution 4k format, which is 4xz the resolution of an high definition image.
By way of comparison to the Leica D-Lux 6, the sensor is a 10.1MP 1/1.7 CMOS sensor. The maximum ISO for the D-Lux 6 was 12800.
No question the upgraded sensor is an improvement for low light situations where no flash is possible.
In addition, I should also highlight some of the high-tech features of the Leica D-Lux Typ 109:
Easy uploading pictures to social media or transferring them to a smartphone via Wi-Fi,
Remote control the camera using a smartphone or tablet.
Unlike its Panasonic counterpart, the Leica D-LUX is protected by a three-year warranty. As an extra perk, purchasers also receive a free Adobe Lightroom download.
To close my Leica D-Lux Typ 109 review, I just have to say that this camera takes beautiful, high quality photographs. True to the Leica name, it is also sturdy and well made while delivering elegance and style that it lacking in its peers. Some have noted that the camera is so sleek that it feels a bit "slippery." However, adding a handgrip does the trick. In addition, it is a bit larger than its predecessors, which means it can likely no longer be characterized as "pocket" camera.
If you're a fan, feel free to give your own Leica D-Lux Typ 109 review in the comment section below.