My Passport Wireless SSD for Backup on the Go
Technology continues to deliver cheaper and easier ways to back up photos and other data. The My Passport Wireless SSD, which was recently unveiled at the 2018 Consumer Electronics Show, is one of the latest advances.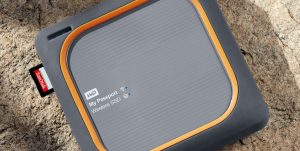 Western Digital's latest portable solid-state drive (SSD) makes it easy to quickly back up photos and videos from an SD card without carrying around a laptop or other device. The My Passport Wireless SSD features a one-touch copy button, and the built-in SD 3.0 card reader delivers up to 65MB/s read speeds.
For photographers, it is important to highlight that the device has RAW file preview support. It should also last for a full day of shooting. The built-in battery provides approximately 10 hours of use, and it can also be used to charge mobile devices via a convenient USB port.
The My Passport Wireless SSD also has a Wi-Fi feature that allows users to instantly share stored photos and other content. The portable SSD has an 802.11ac Wi-Fi connection along with support for both the 2.4 GHz and 5 GHz networking frequencies. Users can also stream 4K video directly to a phone or tablet using the My Cloud app.
Given that it is meant to be carried around, the My Passport Wireless SSD has a rugged construction. Its protective bumper is designed to protect the drive from socks, vibrations, and drops at heights from up to one meter, even when it's running.
The SSD is compatible with Windows® 10, 8.1 or 7, Mac OS® X El Capitan, Sierra, or High Sierra. It requires DLNA®/UPnP® or Plex-enabled devices for streaming.
The My Passport Wireless SSD is available in three different storage capacities. The most inexpensive model can store 500 GB of data and sells for $299. The 1TB and 2TB models retail for $499 and $799, respectively. They all come with a 30-day money back guarantee.
For those eager to test out the My Passport Wireless SSD, you may have to wait a bit. All three models are currently available for pre-order and are expected to ship within the next few weeks.