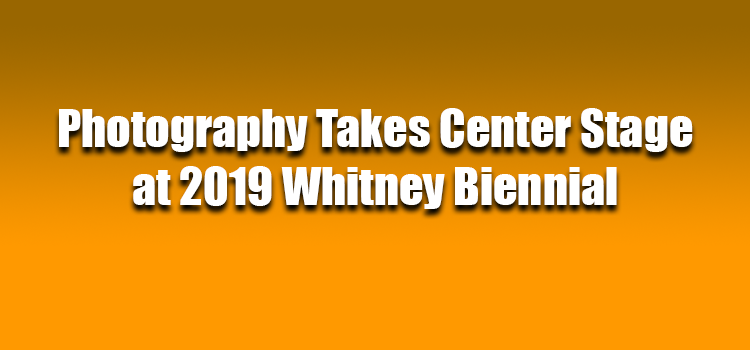 Photography Takes Center Stage at 2019 Whitney Biennial
New York City's Whitney Museum of American Art is holding its Biennial now through September 22, 2019. While the 2019 Whitney Biennial features modern art from all genres, the photography exhibits are among its most impressive.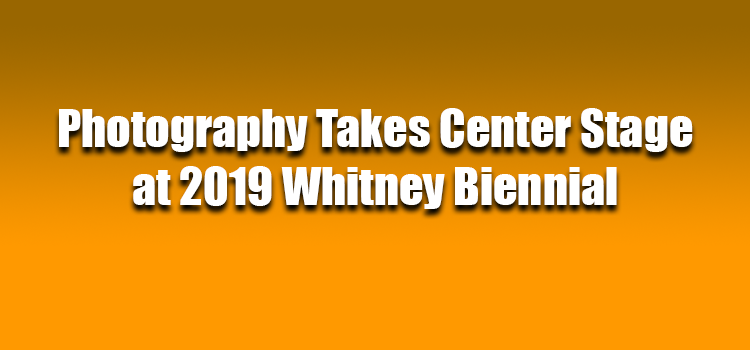 The 2019 Whitney Biennial also features more photography than in years past. As detailed by Collector Daily, below are the 15 artists that incorporated photographic images into their work displayed during the Whitney Biennial:
Alexandra Bell: installation comprising 20 photolithography-and-silkscreen prints on paper, 2019
Lucas Blalock: 1 billboard with augmented reality app, 2019; 3 color inkjet prints mounted on aluminum, dated between 2017 and 2019
John Edmonds: 17 black-and-white and color inkjet prints, dated between 2018 and 2019
Forensic Architecture: 1 high-definition video, color, sound, 26 min.
Ellie Ga: 3 high-definition videos, color, sound, 13:57 min., 12:30 min., and 12:04 min. respectively, 2019
Todd Gray: 3 wall reliefs comprising black-and-white and color inkjet prints in artist's and found frames, dated between 2018 and 2019
Curran Hatleberg; 16 color inkjet prints, dated between 2013 and 2018
Tomashi Jackson: 3 mixed-media wall reliefs, 2019
Josh Kline: 8 mixed-media photo objects, 2019
Troy Michie: 4 mixed-media collages, 2019
Elle Perez: 9 pigmented inkjet prints, 2019
Carissa Rodriguez: 1 high-definition video, color, sound, 13.22 min., 2018; 1 silver gelatin print, 2018
Paul Mpagi Sepuya with additional works by Dicko Chan, James Garcia, Ariel Goldberg, Clay Kerrigan, Clifford Prince King, Giancarlo Montes Santangelo, Emerson Richard, A.L. Steiner, Peter Tomka and Derrick Woods-Morrow: 14 black-and-white and color inkjet prints, dated between 2017 and 2019
Heji Shin: 7 inkjet prints, dated between 2016 and 2018
Martine Syms: installation incorporating 8 color inkjet prints, 2019; 1 high-definition video, color, sound, 4:32 min., 2017; wall painting, 2019
As described by curators Jane Panetta and Rujeko Hockley, the central themes of the 2019 Whitney Biennial include the "mining of history as a means to reimagine the present or future; a profound consideration of race, gender, and equity; and explorations of the vulnerability of the body." All of those themes are vividly reflected in the photography featured.
Alexandra Bell's No Humans Involved: After Sylvia Wynter features prints of articles about the 1989 Central Park Five case from the New York Daily News. Bell highlights headlines and body text and redacts photos to emphasize the lack of journalistic objectivity, as well as to show how journalism can perpetuate racialized violence. The series has gained press attention because it culminates with the full-page ad that Donald Trump personally took out to demand that the accused young men be given the death penalty.
Another standout is Heji Shin. Her "Babies" series depicts the act of birth, focusing, portrait-like, on infants' heads just after crowning. As described by the Whitney, "These babies' faces are purple, wrinkled, and disembodied—but nonetheless unmistakably human, even if they themselves are not yet aware of their own humanity, or of the photographer documenting their first moments."
Elle Pérez's featured photographs depict different experiences of pushing the body. Pérez's subjects transform themselves, altering their bodies to create pleasure, pain, communion, and self-recognition. In one, a a woman recovering from facial feminization surgery stares at the camera with bruises around her eyes. In another, a luminous hand holds a bottle of testosterone.
The Whitney Museum of American Art is located at 99 Gansevoort Street, New York, NY. Additional information is available at whitney.org.