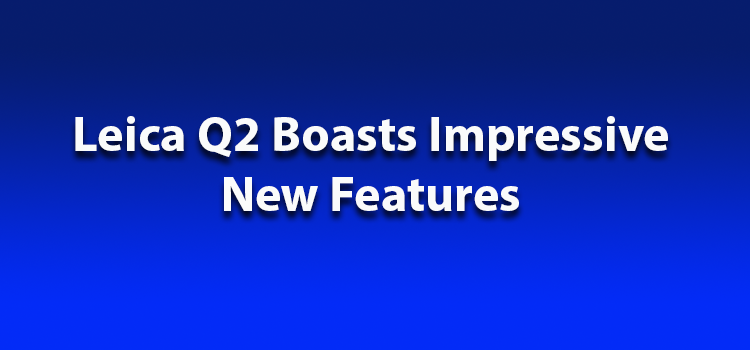 Leica Q2 Boasts Impressive New Features
Leica recently unveiled the Q2, the sequel to its popular compact full-frame Q camera and it is a winner. The revamped model features a number of new features, including a 47.3MP sensor, 4K video, and weather-sealing.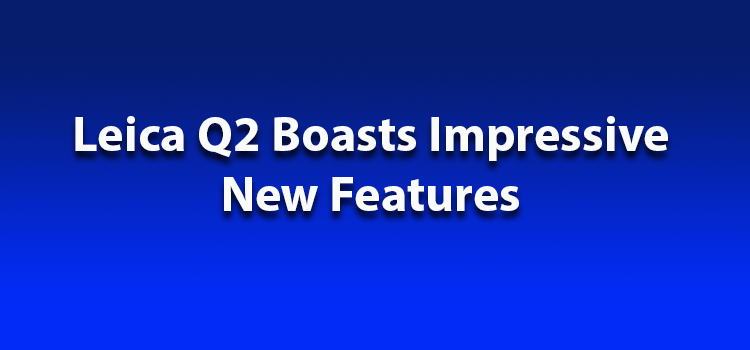 Leica released the original Q in 2014. The latest iteration incorporates Leica's latest technology, while preserving the compact footprint of the Q. To start, the Q2's newly developed 47.3 megapixel full frame sensor delivers the highest resolution in its class. The Q2 features three cropped capture modes, which provide fields of view equivalent to 35mm, 50mm and 75mm in excess of lens' optical focal length of 28mm.
For those interested in capturing video, the new Leica Q2 offers a 4K video mode with 3840 x 2160 pixels and frame rates of 30 or 24 frames per second. In addition, video footage can also be captured in the familiar full-HD format with 120, 60, 30, or 24 frames per second.
As described by Leica, below are several other key features:
New 3.68 MP OLED EVF for an improved view of the scene with better color and clarity
Fixed Summilux 28mm f/1.7 ASPH lens for tack-sharp images and impeccable low-light quality
New processor from the Maestro II family ensuring peak performance at these new heights of resolution
Fast autofocus and 10 fps burst shooting to never miss a crucial moment
Refined control elements inspired by design languages established with the Leica M10 and CL
Bluetooth LE (Low Energy) for easier pairing with Leica FOTOS and a continuous connection
The Q2 is built to endure the most challenging weather conditions. New IP52-certified weather sealing protects the camera from dust, rain and water spray. The adoption of the BPSCL4 battery from the Leica SL also improves the camera's battery life by 30 percent over its predecessor.
Aesthetically, the camera is everything you would expect from Leica. It features clean lines and the distinctive 'Made in Germany' seal of quality.
In terms of handling, the latest version borrows several improvements from the Leica M10 and Leica CL cameras, including single-stage "On/Off" switch, simplified three-button interface on the rear of the camera, and programmable button within the thumb wheel dial. The Leica Q2 layout also includes a push-button diopter compensation dial on the back of the camera that locks and prevents unintentional changes to your chosen setting.
For Leica enthusiasts, it may be time for an upgrade. The Q2 is available for purchase now and retails for $4,995.00.