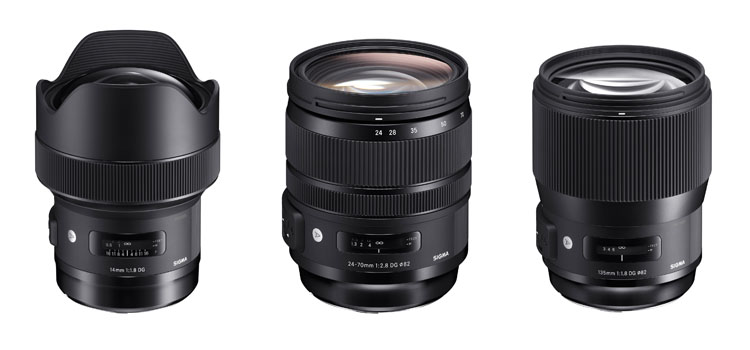 Sigma Releases Three New Art Lenses
Sigma continues to add lenses to its highly-rated Art line. The new additions are the 14mm F1.8 DG HSM, 135mm F1.8 DG HSM, and 24-70mm F2.8 DG OS HSM.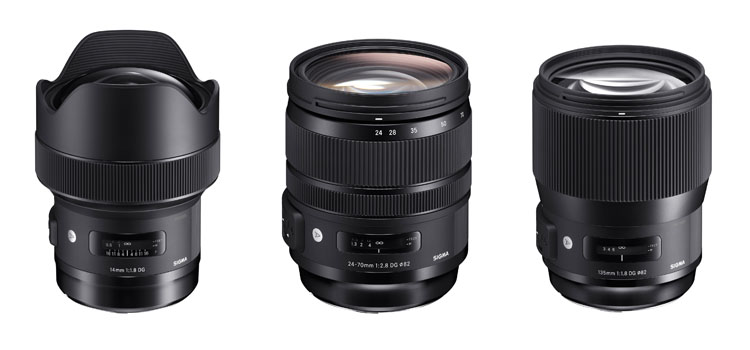 Since launching two year ago, Sigma's Art lenses have been making waves. The high-speed f/1.4 models have shown that they can compete with the high-grade lenses produced by Canon, Nikon and even Zeiss. As an added bonus, the Sigma lenses are generally more affordable. Most recently, DxO Mark named the Sigma 85mm F1.4 Art the best in its class.
Sigma's latest Art lenses are also expected to impress. Sigma touts the 24-70mm F2.8 DG OS HSM Art as a "premium workhorse zoom lens." It features a constant aperture of 2.8 through the zoom range, a brand new Optical Stabilization (OS) system, and a rugged metal barrel. It has a minimum focus distance of 0.37 meters (1.2 feet). Much like the 12-24mm Art, the aspherical elements used in the 24-70mm F2.8 OS Art undergo a highly precise level of polishing, producing elements thicker in the center than on the edges. The price of the lens is not yet available.
The Sigma 135mm F1.8 DG HSM is the latest telephoto prime lens. It's a hefty lens, weighing in at 40.09 ounces. But, with the addition of a new large Hyper Sonic Motor (HSM), Sigma touts the lens as fast and sharp. According to Sigma, "a stunning compression effect makes the Sigma 135mm F1.8 Art the ideal portrait lens while its large aperture help with event photography and much more." The lens has a minimum focus distance of 0.875 meters (2.9 feet) and comes equipped with 13 elements in 10 groups. It also features a dust and splash-proof construction. The list price of the 135mm F1.8 DG HSM is $1,399.00.
The Sigma 14mm F1.8 DG HSM is the first 1.8 prime lens at the 14mm focal length. The ultra-wide-angle lens has low light shooters, particularly astrophotographers, extremely excited. The 14mm F1.8 DG HSM became a reality thanks to a large ⌀80mm precision-molded glass aspherical lens as its front element. The new also features an updated Hyper Sonic Motor (HSM), along with three premium FLD (("F" Low Dispersion) and four SLD (Super Low Dispersion) glass elements control chromatic aberration and sagittal comma flare. The price of the lens is not currently available.
All the lenses are compatible with both Nikon and Cannon. Sigma has yet to announce availability dates for the new Art lenses.