The Photography Show Takes Over NYC's Pier 94
The 38th edition of The Photography Show was held April 5-8, 2018 at New York City's Pier 94. Organized by the Association of International Photography Art Dealers (AIPAD), the show is the longest-running exhibition dedicated to the photographic medium. It offers a wide range of museum-quality work, including contemporary, modern, and 19th-century photographs as well as photo-based art, video, and new media.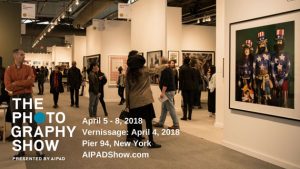 This year's edition of The Photography Show featured 96 fine art photography galleries, over 30 book sellers, 15 AIPAD talks, three special exhibitions, and one screening room.
Works were presented by AIPAD members as well as new exhibitors including younger galleries, book dealers and publishers in four sections. New exhibitors this year included Beetles+Huxley, Gilles Peyroulet & Cie, Holden Luntz Gallery, IBASHO, Antwerp and Photographica FineArt Gallery.
One of the highlights of the show included the Performance/Politics exhibition, which included depictions of both villains and heroes by more than 35 photographers, from Phyllis Galembo's 2016 image Trump Mask, Mexico to Dan Weiner's 1956 portrait Martin Luther King Jr., Bus Boycott, Montgomery, Alabama. The Staley-Wise Gallery, New York, exhibition also displayed a number of famous rock and roll legends, including a 1974 photograph of John Lennon and Mick Jagger, a 1964 photograph of the Beatles reading their fan mail, and from that same year a portrait of Bob Dylan and Joan Baez with a sign that says, "Protest Against the Rising Tide of Conformity."
The Photography Show also included several special editions, including A Time for Reflection, which was curated by Sir Elton John. The work is available for purchase, with a portion of the proceeds benefiting The Sir Elton John Charitable Trust. The second special exhibition, Forever Young: Selections from the Joe Baio Collection of Photography, made its public debut at the show. The third, All Power: Visual Legacies of the Black Panther Party, curated by Michelle Dunn Marsh, Executive Director and Curator at the Photographic Center Northwest, showcases contemporary black artists who have been informed or influenced by the Black Panther movement.
The AIPAD Award, which honors visionaries who have contributed to the field of photography, was also awarded. This year's recipient of the second annual award is Keith F. Davis, Senior Curator of Photography, The Nelson-Atkins Museum of Art, Kansas City, MO.
A complete listing of exhibitors and additional information about The Photography Show is available at AIPADshow.com.