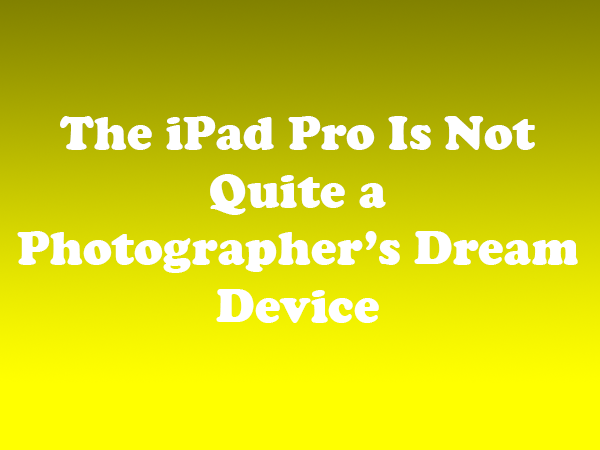 The iPad Pro Is Not Quite a Photographer's Dream Device
Since its introduction, the iPad has been an essential tool for many professional photographers. It is incredibly useful for displaying images during a shoot, showing portfolios to clients, and even light editing.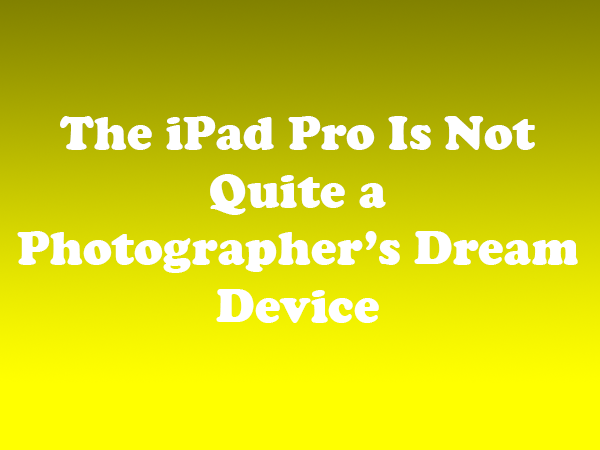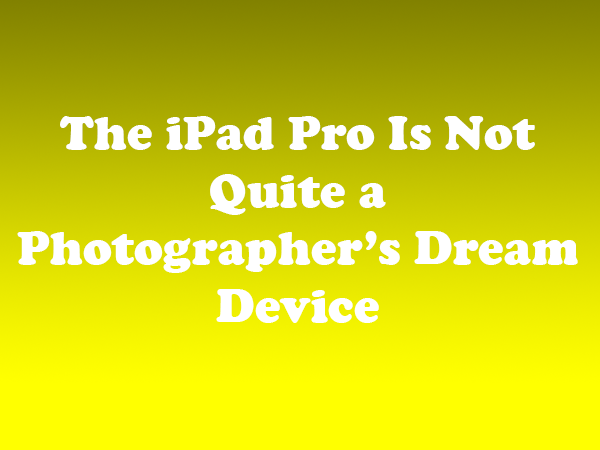 For photographers hoping to leave their laptops at home, the introduction of the iPad Pro held a lot of promise. While the new model is an impressive upgrade, the tablet still lacks some key features that professional and enthusiast photographers have come to rely on.
Starting with the good — the new iPad is fast and powerful. It features a high-resolution 12.9-inch Retina display, 4GB of RAM and a processor that delivers nearly double the CPU performance of the iPad Air 2.
The professional model can also be used with the new Apple Pencil. The pressure-sensitive stylus, which retails for $99, converts the iPad Pro into a dedicated graphics tablet and allows the use of a number of additional editing apps. For instance, the pencil can be used in combination with Adobe's Photoshop Fix to retouch images right on the iPad.
For serious photographers seeking to replace a laptop or desktop computer, the iPad Pro still fails to check off a few boxes. First, the tablet still does not support RAW formatted images. As explained in a recent macworld.com review, photographers can still transfer RAW files to the iPad; however, "any edits you make are applied to the thumbnail preview the camera creates to display on its LCD." As the reviewer further notes, "when you edit on the iPad, you're not taking full advantage of the editing possibilities RAW formats offer."
Second, the top limit for memory in Apple's i-devices remains at 128 GB. Pictures, especially those taken with full frame cameras, consume a lot of memory. An iPad Pro would need to be emptied of all but photo apps for it to make sense as a photographer's go to field devise. It remains a mystery why Apple is so lite on memory when SD cards now exist at 512GB and flash drives are available at 1TB.
Finally, Mobile apps of popular photography tools, such as Photoshop, are still "light" versions of their desktop counterparts. So while you will be able to do more editing on the iPad than ever before, most photographers will still need to break out the laptop at some point.
There has been some buzz that software makers will create more powerful apps that are geared toward the iPad Pro. While the tablet has the power to run them, other models of the iPad would not support them, so it remains to be seen whether software companies will be willing to create a new app suite that can only work on one device. Most will likely want to wait and see how the iPad Pro sells before committing any financial resources.