Nikon AF-P DX NIKKOR 10-20mm f/4.5-5.6G VR Lens: Good Image Quality at Affordable Price
The Nikon AF-P DX NIKKOR 10-20mm f/4.5-5.6G VR ultra-wide lens is a bargain at around $300. The lens, which debuted last year, is designed for DX-format F-mount DSLRs where it provides a 15-30mm equivalent focal length range.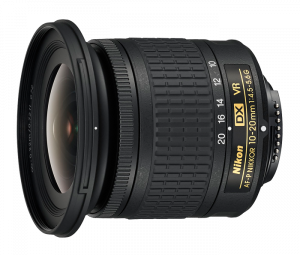 Overall, the lens performs surprisingly well given the price point. It far surpasses any kit lens. To start, it includes Vibration Reduction (VR) image stabilization, a feature that is often absent in lower-priced lenses and can prove invaluable when shooting handheld and in low light.
The Nikon AF-P DX NIKKOR 10-20mm f/4.5-5.6G VR also features a pulse stepping motor AF system, which benefits both video and photo applications due to its fast, quiet, and smooth focusing performance. Below are several other key features:
F-Mount Lens/DX Format
Maximum Aperture: f/4.5-5.6
Three Aspherical Elements
Super Integrated Coating
Internal Focus; Manual Focus Override
Seven-Blade Diaphragm
The image sharpness is excellent at all focal lengths, particularly in the center. While there is some distortion in the corners, the image quality is overall very good for a bargain lens. The Nikon AF-P DX NIKKOR 10-20mm f/4.5-5.6G VR Lens does allow some chromatic aberrations, although it is easily correctable when editing images.
It is important to note that the lens is not compatible with all Nikon DX cameras and works best with later models. Fully compatible cameras include:
D3000-series cameras from the D3300 and later
D5000-series cameras from the D5200 and later
D7000-series cameras from the D7100 and later
D500
Compatible models with limited functions include D5, D810 series, Df, D750, D7200, D7100, D5200, and Nikon 1 series with the FT1. The following models are incompatible: D4 series, D3 series, D2 series, D1 series, D800 series, D700, D610, D600, D300 series, D200, D100, D7000, D5100, D5000, D90, D80, D70 series, D3200, D3100, D3000, D60, D50, D40 series, film cameras
Like all Nikon lenses, the AF-P DX NIKKOR 10-20mm f/4.5-5.6G VR Lens is well-built. It also features a compact and light design, which makes it easy to add to your camera bag. The lens is available via several online retailers, including Amazon.com and B&H Foto. The list price is $309.95.