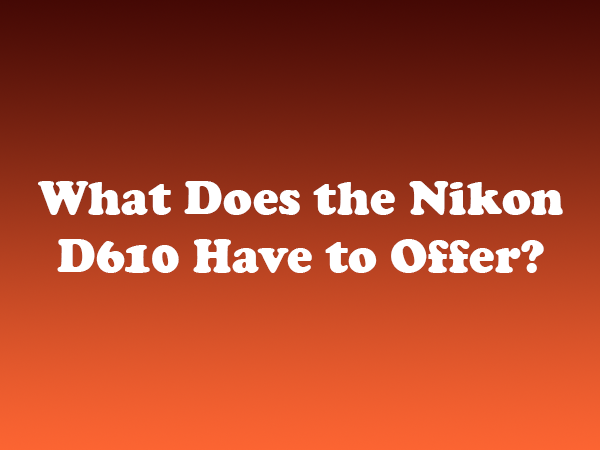 What Does the Nikon D610 Have to Offer?
The Nikon D610 is one of the lowest-priced full-frame SLRs on the market. At the price Nikon is charging for the camera, the D610 is one of the best values in photography.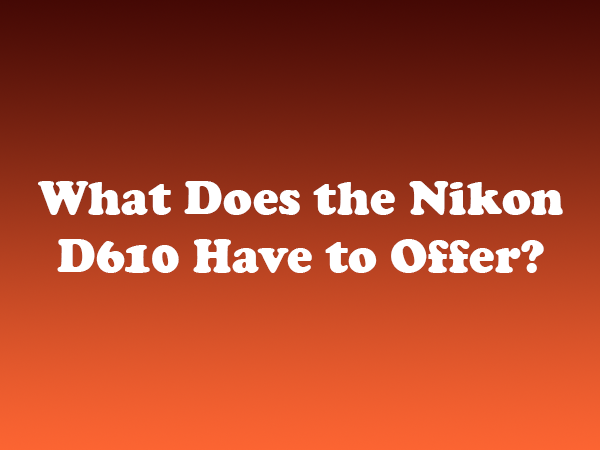 The D610 has a 24.3MP full frame CMOS sensor, an ISO range of 100-6400; a maximum 6fps continuous shooting mode; 39 point AF system with 9 cross type AF points; wireless flash control; dual memory card slots, and 1080p30 full HD video. These are just a few of the high end features in this camera.
While the D800 has a 36.3MP full frame CMOS sensor, it will cost $1,000 more. The D800 is an extraordinary camera, but there is a good argument for the 24.3MP sensor when you are doing post processing. Each 36.3MP image takes much more time to load and edit using Photoshop or any of the NIK, Topaz or Perfect photo plug-ins. The 24.3MP size is enough to give you high resolution after cropping, but not too much to slow the post processing time down.
Early reviews say that the D610 was released so quickly after the D600 because Nikon wants to quickly sweep out the bad reports of spotted sensors on the D600. However, a correction for the problem of spotting on the sensor isn't the only change in the D610.
While many features are the same (4.3-megapixel CMOS image sensor, EXPEED 3 processing unit, 39-point AF system, 3.2″ LCD screen), the new D610 includes the following improvements:
Faster shutter mechanism (rated at 150,000 cycles) can shoot up to six frames per second.
Updated Automatic White Balance (AWB) improves the appearance of skin tones and artificial light.
New Quiet Continuous Shutter Modes shoots up to 3 frames-per-second in full resolution in virtual quiet.
As many reviewers have pointed out, the most important improvement may be that the D610 does not suffer the same issues that have plagued the D600. Users report random spots appearing on their images, even after they have been properly cleaned. The apparent dust even accumulated when photographers had not yet changed the lenses, suggesting the particles were emanating from inside the camera.
In related good news, several other photo blogs, including Nikonrumors.com, are reporting that owners are receiving brand new D610s from Nikon in lieu of repairing their older models. So if you are experiencing a "dirty" sensor, it may be worth a try.