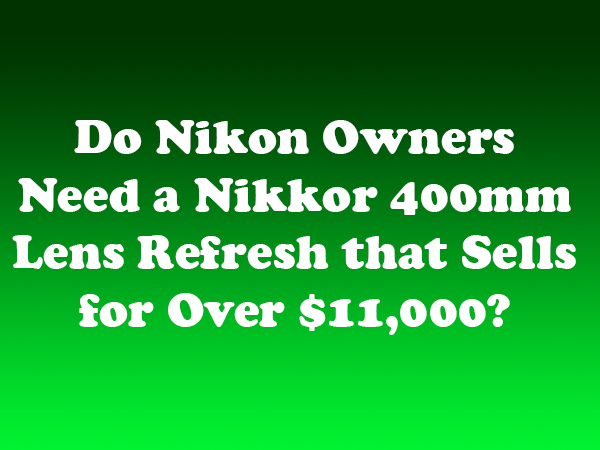 Do Nikon Owners Need a Nikkor 400mm Lens Refresh that Sells for Over $11,000?
Nikon recently unveiled the Nikkor AF-S 400mm f/2.8E FL ED VR lens. While it is considerably lighter than its predecessor, it comes with a hefty price tag of $11,999.95.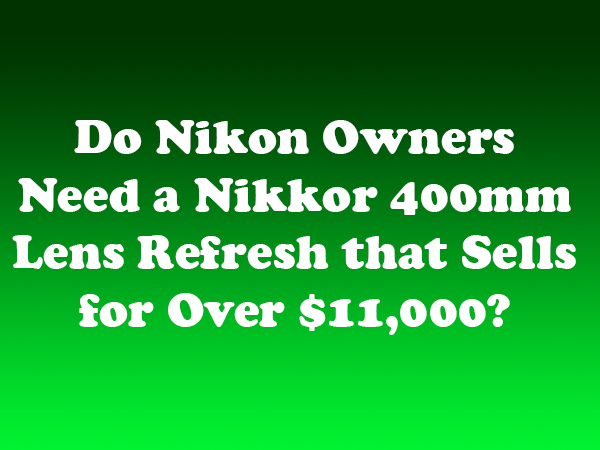 In its product release, Nikon touted the new lens as the natural companion for its new Nikon AF-S TC-14E III teleconverter. It retails for $499.95 and will also be available in August.
"The new AF-S NIKKOR 400mm f/2.8E FL ED VR has been evolved to meet the needs of today's sports, wildlife and multi-media photographers, well beyond the premier precision optics; it is much lighter, and has well thought-out controls and features that aid in creating super-sharp images even from extreme distances," said Masahiro Horie, Director of Marketing and Planning, Nikon Inc. "Together with the AF-S Teleconverter TC-14E III, the new 400mm lens and many other NIKKOR lenses will help photographers go the distance to get their shot."
Here are a few things you need to know about the new lens:
The lens does weigh considerably less than the older version: 134 ounces vs. 163 ounces (a difference of roughly two pounds). Since the lens is designed for taking sports, action, and wildlife shots, size does matter.
The new version contains two additional fluorite lens elements, as well as two Extra-Low Dispersion elements. Together, they deliver superb performance with very little chromatic aberration and flaring.
The improved model offers a new VR Sport Mode, which is designed for sports and action. It recognizes panning motions and makes automatic adjustments, resulting in clear, crisp photos.
The AF-S NIKKOR 400mm f/2.8E FL ED VR is a bit more rugged. For instance, it features a protective front meniscus element with a fluorine coating, which protects the front of the lens from dirt and moisture.
The lens contains new features to improve usability, including a tripod collar ring utilizing bearings ensures smooth transitioning between horizontal and vertical shooting

So should you splurge? The Nikkor AF-S 400mm is undeniably a great lens, but if you have the AF-S NIKKOR 400mm f/2.8E FL ED VR, you may want to literally "weigh" your options.