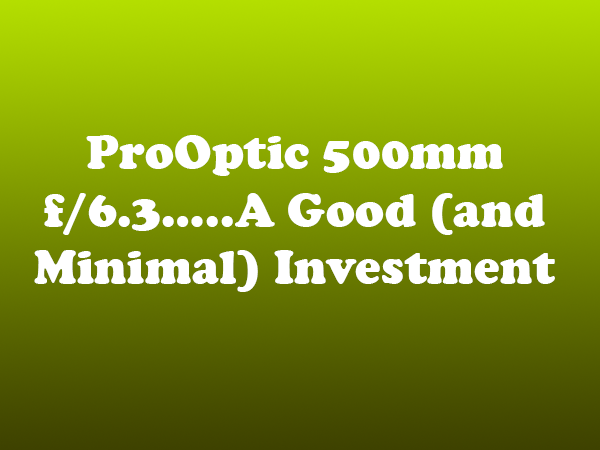 ProOptic 500mm f/6.3…..A Good (and Minimal) Investment
The ProOptic 500mm f/6.3 is a good quality 500 mirror lens alternative for photographers who do not regularly shoot at this range. At only $160, its drawbacks are not that significant. In the category of mirror lenses, this one is undoubtedly the best.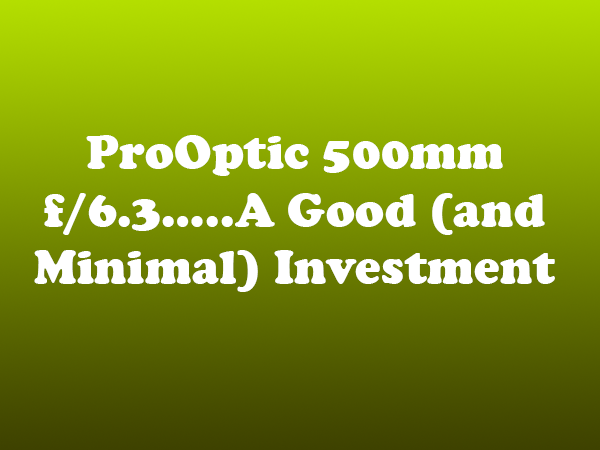 The ProOptic only weighs 1.5 pounds and reaches less than 4.5 inches long when racked out. It balances nicely on most cameras and is easy to shoot handheld. It is at its best with wildlife and street photography provided you are good with manual focus. The most obvious drawback to the ProOptic is that it does not have autofocus or auto exposure.
As you would expect with any lens like this, subjects in the distance are typically flattered by the lens' low-contrast and slightly soft imaging. The lens is ideal when you want a soft portrait or some architectural or landscape detail in the distance. The manual focusing is smooth but stiff, and distance scales are large and easily legible. It has little edge falloff and little chromatic aberration.
Depending on your preferences, it may be considered a drawback that defocused areas behind the primary subject can appear creamy. There are a number of mirrored surfaces within the lens barrel that light must reflect off of, and each bounce takes a toll in contrast and sharpness. It also creates donut bokeh which is distinctive but not necessarily attractive depending on the image.
With a single fixed aperture, your exposure and depth-of-field options are limited. The finder image is fairly dim unless you are shooting in direct sunlight. It becomes dimmer when you add the 2x teleconverter.
If your shots don't require sharpness or a depth of field more than f/6.3 can provide (even as extended), the ProOptic can be an excellent choice. This is especially true if you are taking photos of distant people or soft-focus scenes in the sunlight. You will consider the small investment well worth it.
In summary, a mirror lens is an excellent choice for the photographer who shoots long infrequently. The ProOptic 500mm with the 2x teleconverter is the best of the mirror lenses and the one to get.