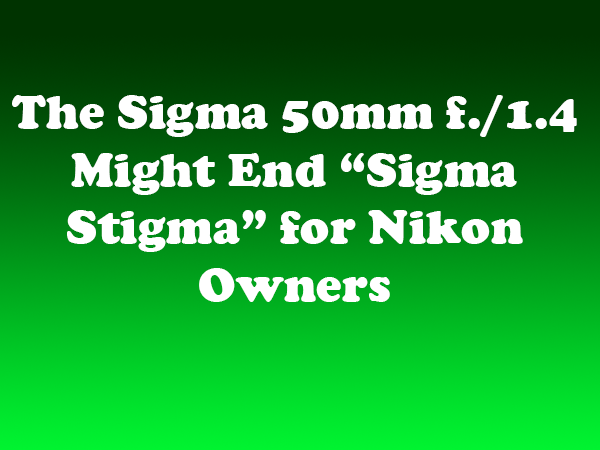 The Sigma 50mm f./1.4 Might End "Sigma Stigma" for Nikon Owners
Sigma did it again! On the heels of its success with the Sigma 35mm f./1.4 lens, the early reviews place the Sigma 50mm f./1.4 in a lofty category as a first class optic suitable for any professional or serious amateur use.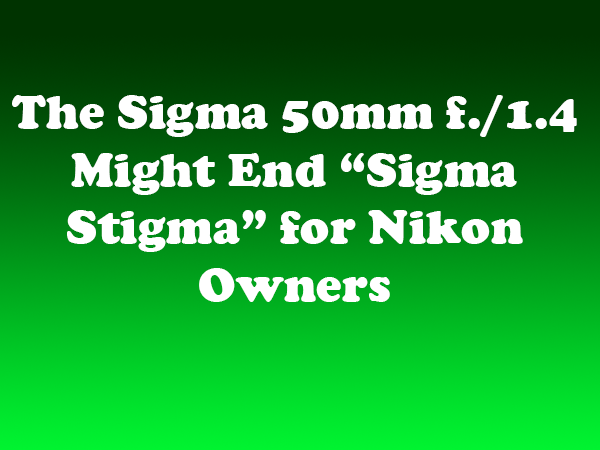 Early reviews seem to support Sigma's claims that its new 50mm f/1.4 lens surpass Nikon and Canon as competitors and take on the incontrovertibly outstanding $4000 ZEISS 55mm f/1.4 Otus lens. The only question now is whether brand conscious photographers will buy the Sigma over the Otus lens or the Nikon lens. To view the specs of the Sigma lens, click here. To view the specs of the Nikon 58 mm f./1.4 lens, click here.
The new Sigma 50 mm f./1.4 is part of the Art line and it has been redesigned to set a new standard of performance. It is touted as a pro-level performer and is ideal for a variety of types of photography, including portraits, studio work, and landscapes. The lens includes SLD glass and enhanced to provide rich peripheral brightness with an improved large aperture performance by positioning wide elements into the front groups. Its autofocus is smoother and lens movement while focusing has been reduced. Now with 13 elements in 8 groups, it also has improved close focusing at 15.7 inches and a maximum magnification ratio of 1:5.6. In addition, Sigma has included Super Multi-Layer Coating to reduce flare and ghosting, and to ensure high-quality images throughout the entire zoom range.
The Nikon 58 mm f./1.4 has a high-speed standard lens with low levels of chromatic aberration. Sharpness suffers when the lens is wide open, but this is a desirable trait for portraiture. The lens features 9 optical elements in 6 groups, including two aspherical lens elements. A Silent Wave Motor provides smooth and quiet auto-focus with full-time manual focus override, while Nikon's Nano Crystal Coat provides anti-reflection effects throughout the visible light range. The main appeal with this lens is the bokeh effects when shot wide-open. The fast lens has the ability to separate the subject from the background. The lens also has weather-proofing, which is a significant benefit.
It may be too early to tell, but initial reviews seem to indicate the Sigma may be all it is touted to be. At a price point under $1,000, the Sigma is certainly an attractive alternative to the Nikon 58 mm f./1.4 and might create second thoughts for those photographers who have the spare cash to afford the Zeiss.