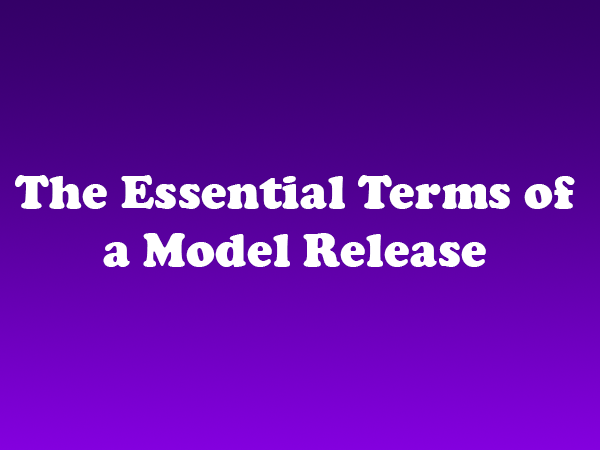 The Essential Terms of a Model Release
In its most basic terms, a model release is a contract between the subject and the photographer. The subject grants permission for his or her image to be used for commercial purposes. In exchange, the photographer provides something of value.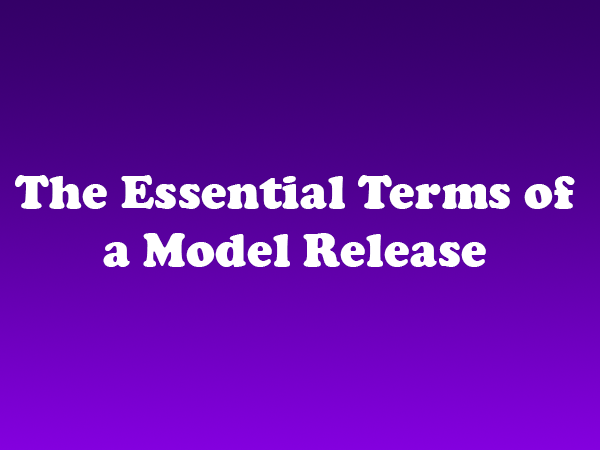 Every legal contract must contain three essential elements: offer, acceptance and consideration.
In many cases, the photographer offers to take a photograph (in the context of a professional model in exchange for remuneration), while the subject offers to grant permission to have the picture taken and authorize its later use. Signing and accepting the release indicates the parties' acceptance of the terms.
To create a binding agreement, the parties must also each give and receive something of value, which is known as consideration. The consideration may be money, services, goods, etc. In most cases, the photographer receives the ability to use or sell the photographs commercially. If the model is a professional, he or she will likely be paid. In other situations, such as shooting in the field, you can offer to send the subject the images or promise to use your best efforts to get the photograph published. The most important thing is that the other party views it as something of value.
Standard legal agreements often contain language like the following:
"In consideration of my engagement as a model, and for other good and valuable consideration herein acknowledged as received, I hereby grant Photographer the irrevocable, perpetual and unrestricted right and permission to take, use, re-use, publish, and republish photographic portraits or pictures of me."
If your model release contains the above, it will be considered a legal binding agreement. However, many photographers will want more than a bare bones contract. Below are several other provisions that are commonly included in a model release:
Digital editing: The release should grant the photographer permission to digitally alter the photograph, including changes to the to color, size, shape, perspective, context, foreground or background.
No right to final proof: The release should state that the subject waives the right to inspect or approve the finished product and/or the advertising copy that may be used in connection with the photographs.
Discharge of liability: The release should state that the subject releases, discharges, and agrees to hold harmless the photographer from any claims for libel or violation of any right of publicity or privacy.
Of course, the contract is only valid if the subject signs it. So be sure to get a signature on the model release before snapping your picture. It also good practice to obtain the subject's address should you need to contact them at a later date.
Feel free to read further about: When Do Photographers Need a Model Release?